Chapter 1: The Early Years
Bill managed projects as an Owner's Representative and John provided Cost Estimating. Both practices functioned separately, but there was great synergy between the two. The Estimators helped the Owner's Reps establish budgets and review costs. The Owner's Reps provided current cost data from the field. A culture of internal collaboration was born.
On the Owner's Rep side, two early projects would establish B&F's trajectory within the non-profit and hospitality sectors. Our cultural work began with The Franklin Institute in 1999, and our hospitality portfolio commenced with the conversion of the iconic PSFS building into the Loews hotel in 2000.
On the Estimating side, our friends at MGA Partners became one of our first clients, along with Ballinger, Bohlin Cywinski Jackson, and Hartman Cox.
Chapter 2: Leadership Change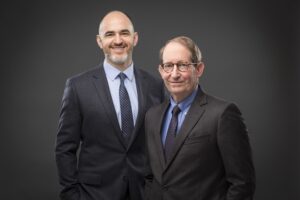 In 2005, Charlie Moleski joined the firm. Projects such as the National Museum of American Jewish History with Ennead Architects and the Agnes Irwin School with BCJ would be career-defining projects for him.
When Bill Becker began his retirement in 2011, Charlie was elevated to Partner and was tasked with overseeing the Owner's Rep group. He later became B&F's Managing Partner.
Chapter 3: New Partners & Continued Growth

Several years later, the firm underwent another leadership change with the retirement of John Frondorf. John brought two new partners into the firm: Joe Malinowski, who now oversees Project Management; and Mike Zaidel, who directs the Estimating Group.
Joe Malinowski joined B&F in 2008. His noteworthy projects include working with artist Claes Oldenberg on his monumental sculpture, Paint Torch, at the Pennsylvania Academy of the Fine Arts. He was fortunate to work closely with Bill Becker on Bill's last project at B&F, the Karabots Pavilion at The Franklin Institute, designed by Peter Saylor and JacobsWyper. Joe has also worked extensively with our hospitality clients. The new Hyatt Centric in Center City Philadelphia set B&F apart from other project management firms—showcasing our extensive hospitality and ground-up construction expertise amid the challenges of pandemic-era construction.
Closely mentored by John Frondorf, Mike Zaidel has become an expert in his own right. One of his crowning achievements was the estimate for renovations to the Statue of Liberty with longtime client, Mills & Schnoering. This complex undertaking required both an assessment of construction costs inside a large sculpture and consideration of premiums for transporting materials and workers across New York Harbor on a daily basis. When the project was bid, the estimates were spot on. Thanks to Mike's leadership, the Estimating group is still going strong with more than 6000 completed estimates in the last 25 years.
With Gratitude

B&F's 25 years of success was made possible by three very important groups of people that we wish to thank.
First, our staff is the best there is. They work tirelessly and tenaciously on behalf of our clients. To all our team members past and present—thank you!
We are grateful for the deep bonds we have forged with industry colleagues—architects, engineers, contractors, consultants, and vendors. Our culture of collaboration would not be possible without you.
Most importantly, we are deeply grateful to our clients and the trust that you have placed in B&F. Whatever type of facility you are creating, you are the ones truly making the world a better place. We are humbled to play a small part in helping you to realize your vision.